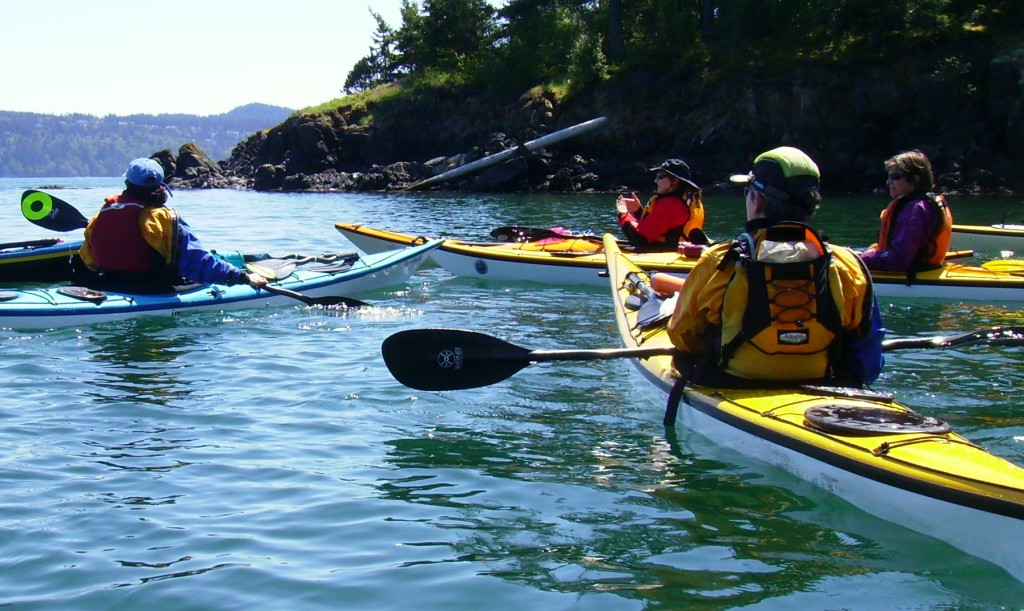 Salish Sea Kayak School is happy to schedule your Bellingham kayak classes for dates, times, and locations that we work out together.  With minimal planning beforehand, we can get you out on the water and underway!  Please see our "Scheduling Your Class" page for details.  This custom scheduling is available year 'round.
For those who desire a calendar based schedule, SSKS offers that too, during the "high season" of May through September.  Please check our Class Calendar for currently scheduled courses.
*Rates are in US Dollars.  8.7% Sales Tax Will be Added to Cart Total
Have you been thinking about entering the sport of sea kayaking but wanted to try it out before making the decision to invest in lessons and gear?
Are you looking for a fun way to get outdoors for an afternoon or evening and experience something new with friends, family, or a significant other?
Or are you vacationing in the the Bellingham area and looking for a unique, fun, and adventurous way to experience the beauty of the Pacific Northwest?
If so, this class for you! Our "Taste of Sea Kayaking" is a 3-hour session where you'll get an introduction to the kayaks and related equipment, a discussion about how to be safe in area waters, an introduction to basic paddle strokes (going forward, stopping, and turning), and a some on-water paddling in single kayaks in sheltered waters near Bellingham — all conducted and supervised by our trained and experienced instructors.
Group Rate: $40 per student, based on a group of 2-5 students. 
Private Rate: $65
If your experience gets you "hooked," you may apply half of this the class fee towards the "Essentials of Sea Kayaking" 10-hour class!
The Essentials of Sea Kayaking
This is a 10 hour class which is best spread over a 3 week period (3 sessions of 3+ hours each) but may be scheduled to fit other arrangements and your schedule.  Topics include:
Learning about the boat (key terms and concepts)
The paddle (the parts and how to hold and use it properly)
Life Jackets (importance, selecting, fitting)
Lifting and carrying
Getting into and out of the kayak (hopefully without falling in the water!)
Forward, Reverse, Stopping, Turning & Other Strokes and Maneuvers
Wet Exit (getting out in event of capsize)
Self-Rescue using a paddle float
Assisted Rescue
Group Rate: $200 per student, based on a group of 2-5 students. 
Private Rate: $250
SSKS "Fun Paddles" are sea kayaking day trips intended for our students who want to practice what they've learned in class, while enjoying some time on the water.  Fun Paddles aren't instructional sessions, although Q&A is encouraged, and the trip leaders might share some helpful tips.  Paddling locations, duration, routes, and other factors will be selected with an eye on weather and other conditions by SSKS and may be adjusted, postponed, or cancelled based solely on SSKS risk assessment.  Some Fun Paddles may take place in areas where conditions might be more "advanced" than a lake, for example.  Please consider your comfort level and/or consult with SSKS before registering.
Group Rate:  $40 per student, based on group of 2-5 students
Private Rate:  $65
Haven't practiced your wet exit and rescues in awhile?  This 3 hour class will review these critical basic skills and give you a chance to polish your technique.
Price: $75 per student, based on a group of 2-5 students. 
Private Rate: $100
There are lots of options for rescuing yourself or assisting others.  This 4 hour class will demonstrate and allow you to practice different rescue techniques.  Including:
Paddle float rescue without using deck bungees or straps, Cowboy/Cowgirl re-entry, Between the boats, Hand of God, Towing, Deck Carry, Bulldozing, and other methods.
Price: $100 per student, based on a group of 2-5 students. 
Private Rate: $140
We believe the best way to teach the kayak roll is with two-on-one instruction or two instructors per student. Our experience has shown that private rolling lessons reduce frustration and fatigue while ensuring higher rates of success.  Rolling classes are 1.5 hours long.
Private Rate: $125
Got "The Essentials" down and ready for the next step?  This 3 hour class is the class for you.  It'll take your basic skills and add the fine tuning that enhances performance.  Sample topics include:
What's going on underneath that spray skirt, anyway?  Bow and stern rudder, sculling strokes, low and high brace turns, etc.
Price: $75 per student, based on a group of 2-5 students.   
Private Rate: $100
This class is for those with "the basics" understood and done with comfort and will take you into more difficult conditions, including currents, eddies, moderate tide rips, wind waves, and other complex paddling situations.  You'll begin to learn how to "read the water" and successfully paddle your way through with confidence.  You might even become addicted to lumpy water!
This class will require some travel time, which is not included in the class time of 4+ hours.  Please allow a full day (bring a lunch, snacks, and water; along with appropriate clothing for being out on the water and immersion).  We'll discuss these considerations with you prior to registration.
Price: $180 per student, based on a group of 2-5 students. 
Private Rate: $225.
This class is for participants of races such as Ski to Sea and Bellingham Traverse who do NOT have previous sea kayak paddling experience and need to learn basic skills in order to participate.
Group Rate:  $75, based on group of 2-5 students
Private Rate:  $100